Life Across the Pond
You will never know the beauty or the deeper heritage of the west of County Clare like you will if you go on a Burren Walk with Tony Kirby. Tony is originally from Limerick and after working in Dublin and Italy, he settled in County Clare. He is now a full-time walking guide and heritage consultant, based in the Burren.
One thing you would probably never expect, is to hear a W.B.Yeats (1865-1939) poem while on your walk. However, when we reached a magical rainforest (yes, in the Burren!), Tony stopped to explain the importance of what he defined as a "magisterial woodland." When a lady in our group said, "You should quote 'I walked into a hazel wood'," Tony replied, "I'll do a William Butler Yeats poem for you, Ann, but this one is very short. It's called 'Politics' and to give you the context, when he wrote it, there is a war looming in the world and also, he is an aging gentleman."
And then he recited:
                            How can I, that girl standing there,
My attention fix
On Roman or on Russian
Or on Spanish politics,
Yet here's a travelled man that knows
What he talks about,
And there's a politician
That has both read and thought,
And maybe what they say is true
Of war and war's alarms,
But O that I were young again
And held her in my arms.
– W. B. Yeats, "Politics" from Last Poems (1938-1939)
Then of course later on, after the guided walk, I had to look up the one Ann asked Tony to recite. It is quite a bit longer and sublime. It is called 'The Song of Wandering Aengus' and here it is: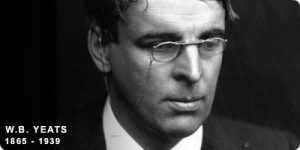 I went out to the hazel wood,
Because a fire was in my head,
And cut and peeled a hazel wand,
And hooked a berry to a thread;
And when white moths were on the wing,
And moth-like stars were flickering out,
I dropped the berry in a stream
And caught a little silver trout.
When I had laid it on the floor
I went to blow the fire a-flame,
But something rustled on the floor,
And someone called me by my name:
It had become a glimmering girl
With apple blossom in her hair
Who called me by my name and ran
And faded through the brightening air.
Though I am old with wandering
Through hollow lands and hilly lands,
I will find out where she has gone,
And kiss her lips and take her hands;
And walk among long dappled grass,
And pluck till time and times are done,
The silver apples of the moon,
The golden apples of the sun.
But then, it seems just as important to include the Nobel laureate, Seamus Heaney (1939-2013) in this story.  Here is 'Postscript' from his book The Spirit Level: Poems:
And some time make the time to drive out west
Into County Clare, along the Flaggy Shore,
In September or October, when the wind
And the light are working off each other
So that the ocean on one side is wild
With foam and glitter, and inland among stones
The surface of a slate-grey lake is lit
By the earthed lightening of flock of swans,
Their feathers roughed and ruffling, white on white,
Their fully-grown headstrong-looking heads
Tucked or cresting or busy underwater.
Useless to think you'll park or capture it
More thoroughly. You are neither here nor there,
A hurry through which known and strange things pass
As big soft buffetings come at the car sideways
And catch the heart off guard and blow it open.
When you read these words and picture Clare, or the Burren, or better yet, come over here yourself, you will begin to absorb the essence of Ireland. And in ten more lifetimes, you can find the wisdom in the soul of Ireland. But if you spend just one afternoon with Tony Kirby, you will shorten the number of lifetimes by a good few.
William Butler Yeats was awarded the Nobel Prize in Literature in 1923. He renovated an old tower house near the town of Gort in County Galway and named it Thoor Ballylee, Thoor being the Irish word for tower. From 1921 to 1929, Yeats and his family lived there so Yeats could be close to the beauty of the countryside and also be near his close friend, the writer, folklorist and playwright, Lady Augusta Gregory. With Lady Gregory and another neighbor, Edward Martyn who lived at Tullira Castle, they formed the Irish Literary Theatre in 1899. Then, in 1904, they became the co-founders of the Abbey Theatre.
From the top of the tower house, one can see views of the south of Galway, stretching all the way to the Burren. And should you be inclined to get a copy of Tony's book, The Burren & The Aran Islands, A Walking Guide, he includes a walk at Coole Park and begins Route 12 with this excerpt from the W.B. Yeats poem 'The Wild Swans at Coole' (1919):
"The bell-beat of their wings above my head
Trod with a lighter tread…"