Beware of Unicorns!
It's not every day you see a Ploppet. It would be considerably more rare than seeing a unicorn.
By comparison, the Unicorn Tree would be quite common. Should you want to see one, you can find it in the south of Spain along the Costa del Sol.
Oddly enough, I would never have seen the Ploppet myself had I not been walking around the neighborhood at Troon with some friends when we were stymied by a barbed wire fence!
Barbed wire in this part of the "settled" desert is certainly a thing of the past, you say. In the days when ranchers let their cattle roam or even let their tame horses out of the stables to forage, barbed wire would have prevented them from wandering where they weren't supposed to go.
But now we have fancy fences and gated communities that are designed to make us feel safer. They are not much of a barrier, though, for Amazon's Prime trucks that even deliver their goods on Sunday!
So how did we encounter the barbed wire in the first place? When trying to take a short cut from one gated community to another (hey, we live here, so not exactly dangerous riffraff, right?), we were going along a narrow trail through an un-landscaped desert area when we spotted it ahead.
Oh no, we thought, we will have to retrace our steps and go back out to another paved road and make it a longer loop.
Along with seeing the Ploppet, the biggest blessing of having to reverse ourselves was, I discovered my new iPhone was laying smack dab in the middle of the road. Eeeek! It must have fallen out of the pocket of my jacket when I peeled it off my shoulders and tied it around my waist.
Even though we were in a very low-traffic gated community, it would surely have been run over by a car and I would not even know where I lost it.
It's a good thing I believe in miracles. There's one, for any of you non-believers!
Now it's time to negotiate getting around the pedestrian gate, which is a piece of cake. Except, wait! Hold your horses! What is that we spot up ahead?
Why, it's a Ploppet. See it for yourself.
The Ploppet is the craziest car I have ever seen. I spoke to the guy driving it and had a peek inside and it was just as bizarre.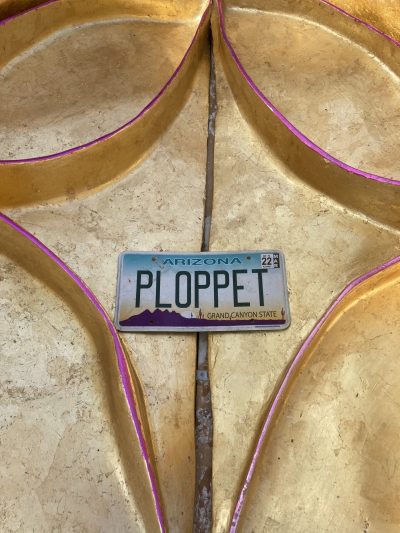 I asked him, " How in the world did you create this…this…?"
He filled in the blank, "Ploppet."
"The what?" Did my ears deceive me. "Why do you call it the Ploppet?"
"It's been a project for years. I just kept plopping stuff on to it, so it got to be called the Ploppet."
"Oh, that makes sense." I had to concur.
My friends were hanging back, but I was glad they were there so they could take my picture.
"Wait a minute," I pleaded. "Let me take a photo of the back please."
Lo and behold, the Ploppet has it's own license plate!
Seeing the Ploppet sent me into another dimension. When IT appeared in view, I could see nothing but IT.
Reflecting on that moment, it makes me wonder, is this how it feels to see a giant teddy bear for the first time? Or is it like the enchantment of Mickey Mouse greeting you at Disney World?
The Ploppet just goes to prove that Albert Einstein was right when he said:
"Logic will get you from A to B but Imagination will take you everywhere."