In the league of their own 
My editor always said don't use a cliché like "breathtaking" to describe anything unless it truly took your breath away!
My first sight of the Slieve League Cliffs set my heart pounding, I had to step back after just a few seconds to keep my balance. Even now while writing about it, I feel as though I could be swept away in the swirling wind.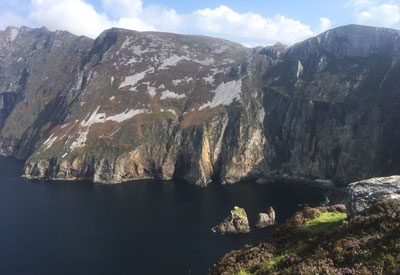 These are the highest cliffs in all of Ireland. Although one of Ireland's best kept secrets, they rise almost three times higher than the Cliffs of Moher — nearly 2000 feet. I had never heard of them. Astonishing.
As we were leaving Lough Eske Castle, I asked Shea, the affable fellow who had just given me a private history tour of the Castle, "What about these cliffs?"
Shea said, " You must go see them. They make the Cliffs of Moher look like they are miniature." And so they did. No superlative would be an exaggeration.
Although the Cliffs of Moher are the most popular visitor attraction (probably still true for the Republic, The Titanic Experience in Belfast may have eclipsed that statistic, in Northern Ireland), Slieve League (Irish: Sliabh Liag), are nothing short of remarkable. Their height, their color, their texture, filled me with awe.
The Secret Garden of Slieve Russell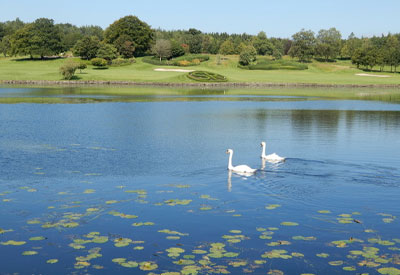 Our first destination was County Cavan so that Kevin could play in the Ulster Seniors Golf Championship. The 2020 venue was Slieve Russell Hotel Golf & Country Club on their fine parkland course. We had a sumptuous room with a view of the rose garden and 18th green. To make everything more delightful, we had warm sunshine. Perfect weather and great camaraderie, unfortunately did not add up to a winning score for Kevin. In spite of those 3-putts on the tricky greens, we both thoroughly enjoyed the luxurious experience.
While Kevin was playing his second round, I discovered The Secret Garden, and an enchanting walking path that passed through mature ash and sycamore trees. As the path turned toward the edge of the 17th hole, it weaves through spruce, mature beech and Scots pine. Up and down and around you go in a perfect 2 mile loop.
I even wound up walking for a bit with a very energetic lady named Jacqui McGrath! Not only did she share the McGrath name (but unrelated to Kevin's family), her parents used to own a house in Lahinch, where she learned her golf.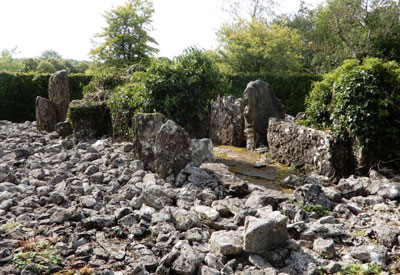 But it was the amazing prehistoric monument hiding in the Secret Garden that absolutely blew me away. It is called the Aughrim Wedge Tomb. It was originally located on the slopes of the Slieve Rushen mountain. The Quinn Group, who built the hotel, were quarrying there when it was unearthed. They engaged Mr. John Channing, Archeologist, to oversee the excavation in 1992. It was then carefully reconstructed on the grounds of the hotel rather than have it disappear forever. To some, it may be sacrilegious to move what the local folklore call "The Giant's Grave", but the trade off is, many more people will see it and have a peek at the ancient past of this part of Ireland.
The tomb is circular and is thought to date to the late Neolithic early Bronze Age (circa 4,000 years ago). There are standing stones in the center of the circle and it fits a category of megalithic monument known as "Wedge Tomb". It is nestled into a large, meandering garden that was created by award-winner designer Paul Martin.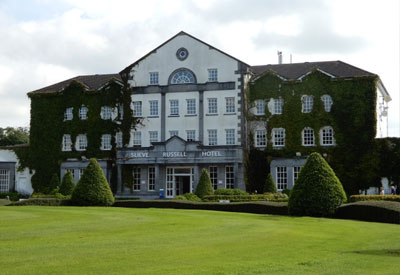 The entire hotel property is situated about 85 miles northwest of Dublin. Many would regard it as the middle of nowhere. Our antiquated GPS took us on a network of single track roads. The grass growing down the middle, shall we say, tickled the bottom of our low-slung BMW sedan. By the time we reached the Slieve Russell Hotel, for us, it did feel like it was light years away from anything resembling a city. In other words, purely idyllic.
Lough Eske Castle
It was only easy to leave because we were heading to Lough Eske Castle. We were very excited about it because the photos of this 5-star hotel online completely capture your imagination. We will also be staying here during our Golf & Music Tour to Ireland in July of 2021.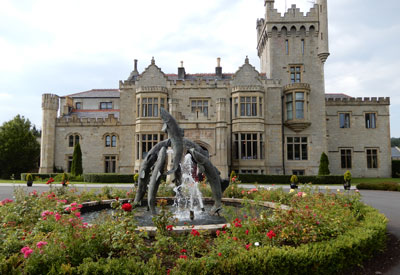 Knowing that Kevin and I are the leaders of this group, the hotel management put us in a magnificent suite. We were barely in the door of our luxurious light-filled cocoon, when we spotted the chocolate covered strawberries. After quickly stashing our suitcases, we smuggled the strawberries over to The Gallery Bar, where we sat outside in the glorious sunshine and enjoyed them with a lovely glass of perfectly chilled Prosecco. Well, I did. I think Kevin had a shandy.
Kevin was content to rest before our dinner, which was booked for 7.15 PM, but as usual, I felt compelled to roam around with my camera. I took photos of several life-size figurative bronze sculptures artfully placed around the grounds. Subjects ranged from the magnificent giant salmon soaring skyward out of a fountain, that greet you at the entrance of the castle, to a magical dragon on the front lawn as you drive in.
But once again, I was in for a fantastic surprise when I discovered the Father Browne Bar. This sprawling space is below the main entry level. From the deep green painted walls, to the tasteful recessed lighting, the extensive collection of framed black and white photographs are set off with perfect placement. I would know, having done this kind of installation over many years of being in the art business.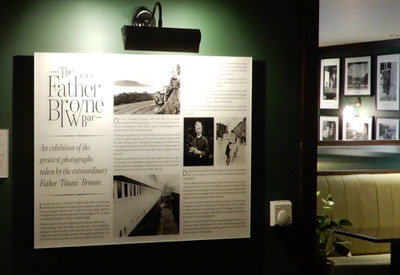 I may know fine art, fine framing and expert placement of a large photographic collection, but I was completely humbled by not having a clue to who is this artist. Although Father Francis Browne, a Jesuit priest, had died in relative obscurity in 1960, when his work was discovered, one critic compared him to the famous French photographer, Henri Cartier-Bresson.
Cartier-Bresson was considered a master of candid photography and thought to have pioneered the genre of street photography. He very much captured a decisive moment, as did Father Browne, when he was aboard the Titanic in 1912.
A generous uncle had given him a first-class ticket on the Titanic as a gift, with passage from Southampton, England to Cork, Ireland. The ship's itinerary was from Southampton to Cherbourg, France, to Queenstown, Ireland, then on to the final port of call in New York City. Father Browne had befriended an American couple who so enjoyed his company, they wanted to pay for his fare to New York. He telegraphed a message to his superior to ask for permission and got a curt reply: GET OFF THAT SHIP —PROVINCIAL. Father Browne disembarked in Cobh, probably saving him from a watery grave. His photographs of life onboard Titanic were splashed on the front pages of newspapers around the world and remain historically important to this day.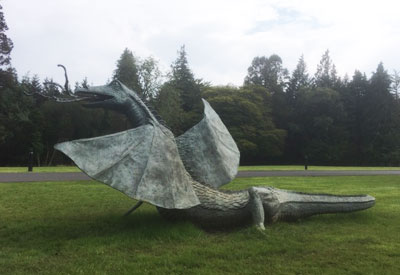 I was thrilled to be able to show Father Browne's Bar to Kevin before our dinner. While doing our site visit the next morning with Stephen Bell, the Sales Manager of the hotel, he also showed us an elegant room tucked away off the main part of the bar where we can have a private Welcome Dinner for our guests in July 2021. Then we also have the perfect venue for our musicians to entertain everybody back out in the bar area, while the pints are flowing.
Like other staggeringly magnificent sights around the world, getting there was not exactly easy. In a way, I'm glad I was so ignorant of Slieve League. It made seeing the cliffs that much more of an adventure. And in this COVID environment, they were not overrun with hoards of people.
The adventure gets stormy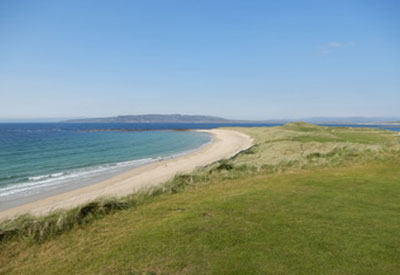 We packed a lot into our five-day trip to Cavan and Donegal — two counties in Ulster. (Ulster is one of four provinces of Ireland. The remaining three are Leinster to the east, Munster to the south and Connacht to the west.) We live in Liscannor near Lahinch, in County Clare. This is Munster. So it was great to see another part of Ireland. It was almost like going to another country.
While we were up there, we went to play Narin & Portnoo. We have this course on our Golf & Music Tour 2021 itinerary, so we were very keen to play it ourselves. It's a gem. Pure links. Quite quirky. Some spectacular views, especially on the back nine. I'll be excited to go back next summer.
Once home in Liscannor, we had the usual rain and wind, on and off. Then we heard the news about Storm Ellen heading our way. She made landfall last night and was she ever ferocious. We were watching for her and around 8 PM the sea turned an effervescent pink. It was serene. Quite literally, the calm before the storm.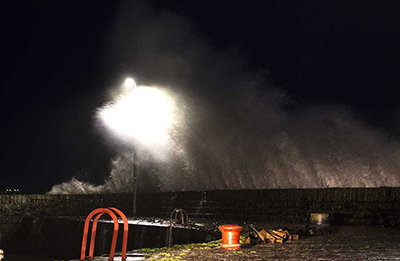 When she did arrive in the dark of the night she brought the entire percussion section of a hundred orchestras with her. Drums of heroic dimensions. Timpani yes, but modest bodhrán, no. Ellen seemed to be trying to find a way to the center of the Earth. She pummeled the whole house, as if we alone stood in her way to the deep underground cave she was seeking.
The booming symphony created by the wind drowned out the gurgling river of water rushing in the downspouts. It was an epic storm. Trees down and power outages all over the country. The next day, you could see white caps in the puddles!
A storm as a metaphor for life?  Hitting you the hardest in a place called home.
You can see many more photos from this wonderful trip on Photos page.