GHS goes to the GCSAA Show!
The Invitation
When I saw a GHS ad for A History of Greenkeeping; Golf's Cause and Effect, I called the author, Mel Lucas, and bought his book. That's when I learned of his commensurate background and he mentioned, "Ya know, GHS has been offered a free table at the GCSAA Show for years."
The GCSAA, of course, is the Golf Course Superintendents Association of America. It's 2022 show was scheduled for Feb. 8-9 in San Diego. Mel, is a longtime member of GCSAA, and past president, as well as a past president of the GHS (then GCS).
I thought this would be a wonderful opportunity for our Society to promote brand awareness. GHS President Bern Bernacki, his wife, Mary, and board member Glenn Haueisen and I would form the GHS Team who would attend the convention.
Trip planing included working with Melissa Householder, the trade show manager, to select a booth among other things. What a saint she was! She also told us about the before-show social mixer on the USS Midway on Feb. 7.
Aha, or rather Ahoy! I thought this sounded like so much fun. And it was. What a great introduction to the huge, congenial crowd.
"Ship Ahoy" is a perfect metaphor for what we were doing at this major golf industry show. Bern often describes our organization as a vessel. And in San Diego we would be physically and intellectually attracting the attention of another "vessel," the GCSAA, an important society itself of golf industry stalwarts.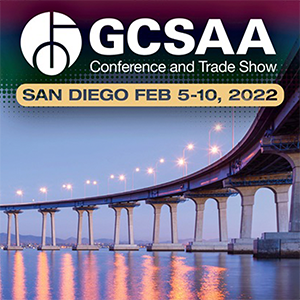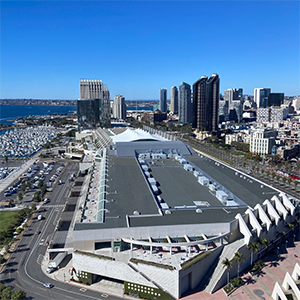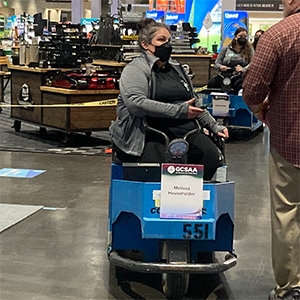 The Mixer
Bern, Mary, and I eagerly attended the mixer, arriving at the great ship to take an elevator to its Main deck — the Hangar Deck — where a fascinating array of airplanes from the World War II era were on display.
Eventually we made our way to the Flight Deck. This is where the real action was. We circulated around the ship, which is about the length of three football fields and is as high as a 20-story building. The 10 bars and food stations featured pulled pork, chicken, mac and cheese, and fish salads served in cocktail glasses. Lord only knows how many deserts we left up there!
I only just began to learn the history of the Midway. The ship was built in only 17 months and was the largest ship in the world until 1955. She was named after the climatic Battle of Midway of June 1942, and was the longest-serving aircraft carrier in the 20th century.
A recent movie filmed in 2018, Midway, covers roughly six months of the war in the Pacific, from the attack on Pearl Harbor through the decisive battle around Midway Atoll, which turned the tide of the war in favor of the U.S.
There was plenty of mingling with the big crowd of GCSAA officials and hundreds of attendees, including superintendents from across the world.
Our GHS connection Mel Lucas was in fine form, schmoozing with dozens of people he knows both nationally and internationally.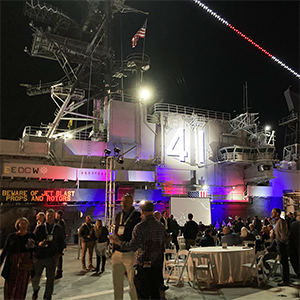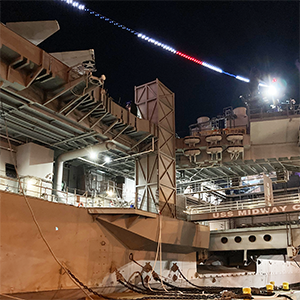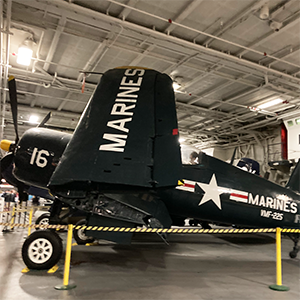 Tuesday, Feb. 8 – Set Up
The convention officially kicked off at 5 p.m. and went for just two hours. That gave everyone a whole day to finish setting up and wander around a little bit to chat with people while they are doing the same thing.
I had a great time over at the Toro stand and even got my photo taken on a gigantic Groundsmaster 4500 rough mower. What a thrill that was. Almost as exciting as sitting on Arnold Palmer's ancient Toro tractor at Latrobe at our GHS National Convention this past autumn. Toro is now in its 107th year and has equipment and products in more than 125 countries in the world. Just a few courses where you'll find Toro include Pebble Beach, Augusta and the Old Course at St Andrews.
Bern was busy. He had interviews with Dean Knuth, contributing editor with Golf Digest magazine; Tim Moraghan, of Golf Industry Magazine; and then at 5.30 pm by turf expert and superintendent Matthew Wharton.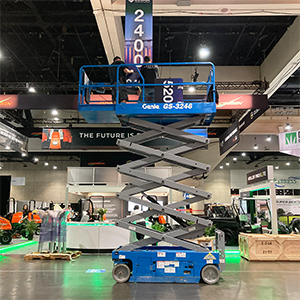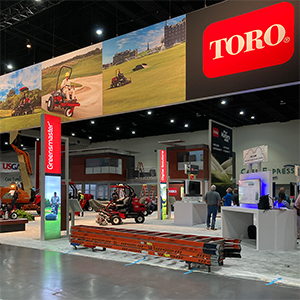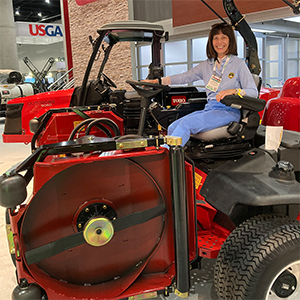 Wednesday, Feb. 9 – The Main Event
Though only a one-day show, the GCSAA packs a lot into it. Bern, myself and Glenn were busy all day long. Lots of people stopped by our booth to drop off their GHS card to enter our Giveaway for a collectible golf item, Scores of others just stopped by to visit and learn about us.
During a presentation titled "Tiger Woods' Reimagination of The Hay Short Course at Pebble Beach," Bern did not miss an opportunity to ask a question. He really stood out in his very natty period clothing when he queried the group on stage that included Bubba Wright, Pebble Beach Golf Links superintendent, Beau Welling, Woods' lead architect on the project, and Jason Nau, vice president of builder Frontier Golf. GCSAA CEO Rhett Evans moderated the panel discussion.
One group of ladies, led by Azucena Maldonado of the Latina Golfers's Association, stopped by our booth and wasted no time in becoming GHS members – "We want to join right now!" Some took an application form, but most said they will go on the website and join right away. (Something to consider next time is to have a computer with us so we can show off the GHS website and make it easy for people to join on the spot.)
Later on that day, I attended a panel event called "Ladies Leading Turf: Mentoring Women Power Hour." Jan Bel Jan was supposed to be the moderator, but an injury kept her from flying, much to my dismay.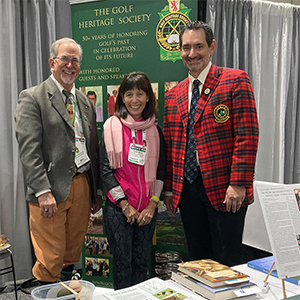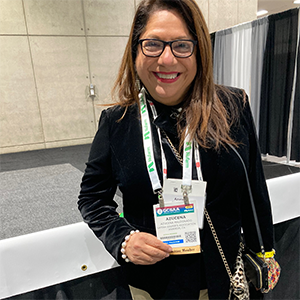 The presentation was moderated Kimberly Gard, a territory manager for Syngenta, the presentation sponsor, who stepped in for Jan. The four panelists were each involved in various aspects of the golf industry.
Mel was on hand for the social networking hour following the day's networking. He was accompanied by Vanja Drasler, head greenkeeper at the Attersee Golf Club in Austria, in the foothills of the Austrian Alps. Mel also introduced us to Leasha Schwab, superintendent for the Pheasant Run Golf Club in Canada. It was she who, in 2018, created the Ladies Leading Turf program.
As important as signing up new members was, three more significant conversations took place — one was with Bern and the USGA. Another was my conversation with Josh Tubbs, Toro Senior Marketing Manager, about Toro becoming a sponsor for GHS. He asked me to email him information and before we said goodbye, Josh said, "I'm really glad you tracked me down."
Also terrific was getting to meet Chad Ritterbusch, executive director of the American Society of Golf Course Architects (ASGCA) and his colleague, Jeff Brauer, director of outreach. We are honored that ASGCA will now be a "spiritual sponsor" of GHS. They have offered to lend articles to The Golf and have their members participate in our Grand Zoom calls, and more. Donald Ross is one of the original founders and their organization is celebrating its 75th anniversary.
Gaining education, meaningful interaction and building synergy with this segment of the golf industry is all thanks to Mel Lucas who had for years been patiently prodding the GHS to attend the convention. We have been invited by Melissa Householder, the trade show manager, to participate in the next GCSAA show, scheduled for January 2023.
Ahoy! I say let's go!