How Hard Can it Be?
Published in A Stroll on the Old Lady
Click here to find out more about the book!
Now you might be thinking, How challenging can a putting course be? Well, if it's the Himalayas—and you play off a 5-handicap like Kevin does, and you've already taken six without finishing the hole, I'd say that is pretty damn challenging!
"I want a mulligan," Kevin griped as his ball went everywhere but in the hole.
Well, that cracked me up so much I almost peed my pants. We did play the hole over again, and made a rule right then and there that five was the maximum we could take on any hole.
Truth be told, after botching the first hole, I said, "Sweetheart, there's nobody behind us, let's just start over, OK?"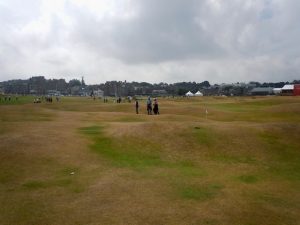 We had each taken one ball and our putters, and walked over from our accommodations by the 18th green of the Old Course. I had been looking forward to this experience for years—not only for the sheer fun of it—but because I figured this time there's no way I'm going to lose a ball!
Just like at regular courses the world over, there was a starter. As soon as we arrived at 4 PM and paid our £2 he said, "You can go now." Perfect.
"Can I have a scorecard?" I asked when he didn't offer. We were each given a little white card, but then he only gave me a single super sharp bright red pencil. Hmmm. This is Scotland after all. I guess one pencil would have to do for the both of us.
The famed Himalayas, which is open from April to the end of September, is the home of The St Andrews Ladies' Putting Club, founded in 1867. It has officers just like any other golf club, including a President and a Secretary and even a Tournament Secretary!
And if that doesn't bring a smile to your face, how about this from the St Andrews Links 2013 Local Club Review:
"Informal Thursday mornings have once again proved popular with a shotgun start and as many as sixty players taking part."
It is really quite an amusing vision, having so many golfers spread out on this wee course, full of humps, hollows and linksy hills sitting right beside the hallowed ground of the Old Course.
Later research revealed, to my surprise, that there are "Members Times" when the course is closed to the public. And the "Rules" insist you keep up with the group ahead (perhaps just 20 yards ahead). The course record, held by G. Anderson, is 34. That amazing 2 under par was accomplished with two holes-in-one!
I wasn't even sure where to begin. Thankfully, Kevin found the narrow flat white arrow with the number 1 in black, affixed to the ground.
We both went along nicely, making twos and threes until we got to that really tricky "do-over" hole which just about drove Kevin around the twist.
The same St Andrews Links 2013 Local Club Review describes the entire vibrant golf scene of competitions. These include the Royal and Ancient Golf Club (formed 1754), The St Andrews Golf Club (formed 1843), St Regulus Ladies' Golf Club (formed 1913), The St Rule Golf Club (formed 1901), among others. And you can find out the 2012 winners of such tournaments as the "Birdie" Owl Paperweight (St Rule), the Rutherford Eclectic Salver (St Regulus), Texas Scramble (The New Golf Club), the Power Vase (Thistle Golf Club), and the Scott Foursomes (Children's Golf Club). Plus it lists all the monthly Medals and other annual fixtures of at least fifteen clubs based in St Andrews.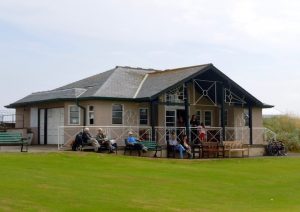 I read somewhere that the St Regulus Ladies' Golf Club even has a separate Putting Membership (along with a Golfing Membership). I thought,  Eureka! I finally found my future golf home in St Andrews! But given that this is St Andrews we're talking about, I'd probably have to be nominated and seconded, then voted in, and who knows if I will live long enough for that to happen?
Oh, and there is one other small thing…I probably have to be a resident of St Andrews!
We are now on the back nine of the Himalayas, also referred to as the Ladies' Putting Green. The grass is the same all over, so you really have to sharpen your skill at judging the speed (or the slowness) of the many quirky undulations. Kevin did so slightly better than me, but only slightly, since we did erase that six-and-counting!
There is hope, however. I read that the Millennium Trophy Competition, held on the Ladies' Putting Green on Thursday with the quarter-finals played Friday morning, was contested by eight ladies—all of whom, except one, a close contender, were over eighty!
Not only that, the final was contested by two ladies both over ninety!
So now I have the answer. All I have to do is live to be eighty or so. How hard can that be?