The Raw Beauty of Clahane
It is good to be able to make it to Ireland during the ongoing COVID-19 restrictions. Normally, I would already be in Ireland by the end of May. But what is normal anymore? The COVID-19 environment has disrupted life and pushed us all to think and act differently and there's no going back.
During our first outing, and the only thing I am allowed to do while in quarantine for fourteen days, Kevin and I walked to Clahane. I was overjoyed to be able to keep to my healthy routine, even though I had to wear four or five layers to be able to handle the wind.
The wind is ever-present when you are by the sea. It can be refreshing like it was today, especially while we're keeping up a good pace going down a quaint, single-track road. It is one of the things I love about our rural part of County Clare, when you come across a road with grass growing down the middle and can feel miles away from anything resembling a city.
Now and then, cows dot the pastures, paying about as much attention to us as they would to a big black crow or little pied wagtail. I am very happy to be a visitor in their land.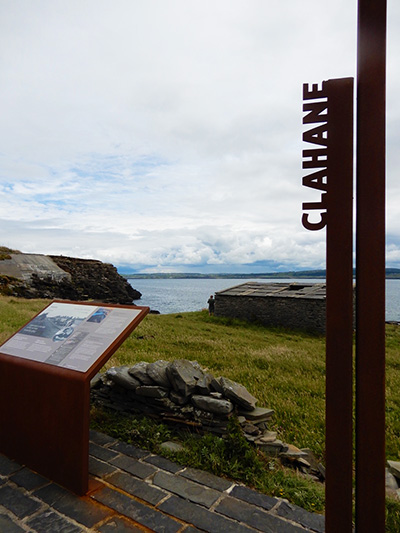 The road bends a bit as we start a slight incline. We are confronted by a stern sign, warning us of Extreme Danger, and suddenly the cliffs are in our view. Mind you, they are modest compared to the Cliffs of Moher, but I'm not going anywhere near the edge. Uh uh. I'm sticking to the wee road.
Now comes the rusty sign announcing we are in Clahane. It's just a speck on any map, but a special speck at that, on the westernmost edge of Ireland. Sure enough, we glance downward and see some hardy souls bobbing around in the frigid water and a few sunning themselves on the flattish rocks. I suppose you have to be born in Ireland to jump into this icy water, but the raw, natural beauty of this coast takes your breath away another way. I feel invigorated, without the chills accompanied by a plunge into the mighty Atlantic.
Pop-up Seaweed Baths
While we make our way to the "rock art" Kevin has told me about, we come upon a rather hilarious scene. First we heard the out-of-place noise of a loud motor. Unable to fathom what was the source of the irritating sound, we eventually discovered it was a generator, being used to heat the water for seaweed baths.
Right, a couple of ingenious guys wheeled a truck close to the flaggy shore, and were pumping sea water into a bevy of large wooden barrels – appropriately spaced more than six feet apart – so people could immerse themselves in warm sea baths.
Seaweed baths, especially on the west coast of Ireland would be very popular since the early 1900s. Apparently bathhouses came to the Emerald Isle during the Edwardian era, and now the current iteration are marketed as spas.
A little online search after our walk yielded this information: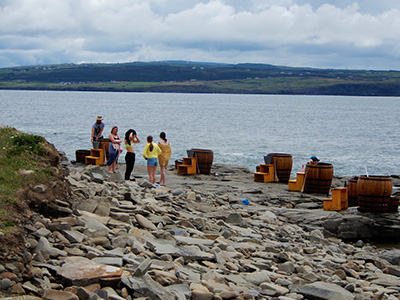 Scientific studies have confirmed that seaweed bathing helps lower body stress and relieve skin conditions (psoriasis, eczema, acne etc). It has also been shown to be beneficial in the treatment of muscle aches and joint stiffness (rheumatism and arthritis), and excellent for some circulatory problems.
We got a big chuckle out of seeing this mobile pop-up operation, hopefully enabling otherwise out-of-work people to find a way of making a living. Maybe they were doing much better than that. We hope so.
The Rock Art – Messages of Love
But the most significant thing of all are the dozens of pieces of "rock art", made by local people of all ages, including very young children. Ranging from purely whimsical to profound commentary, borne out of a country being in complete lockdown, the residents of this remote outpost of County Clare address the coronavirus environment like nothing I have seen anywhere.
I'm sure I will come back again and again over the summer, to ponder the messages and look for any new works of art. No matter the outside temperature, these colorful rocks of all shapes and textures give off a warm aura of joy. Like a long string of pearls, supported by a barrier wall acting as their platform, these sometimes primitive, sometimes intricate, unique creations speak to our heart and soul.
Clahane Rock Art (click on the side arrows)
"Keep your sunny side up"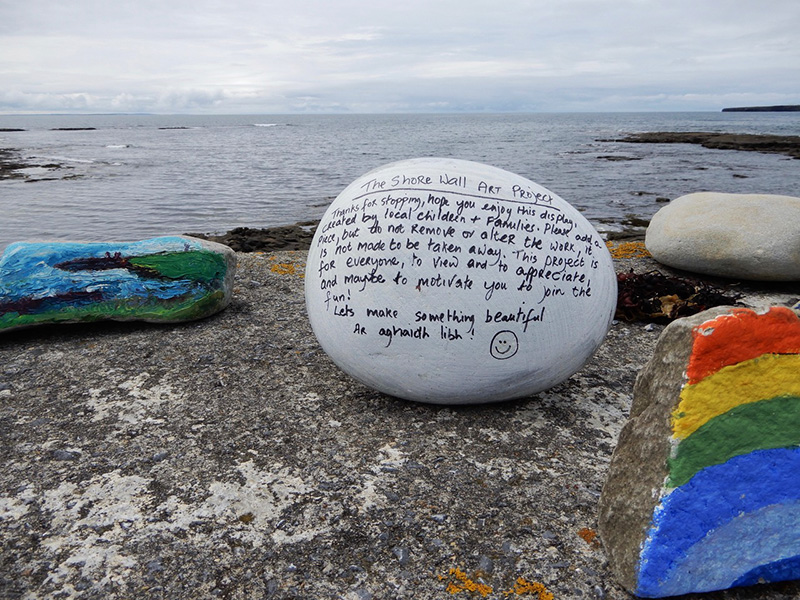 The Shore Wall Art Project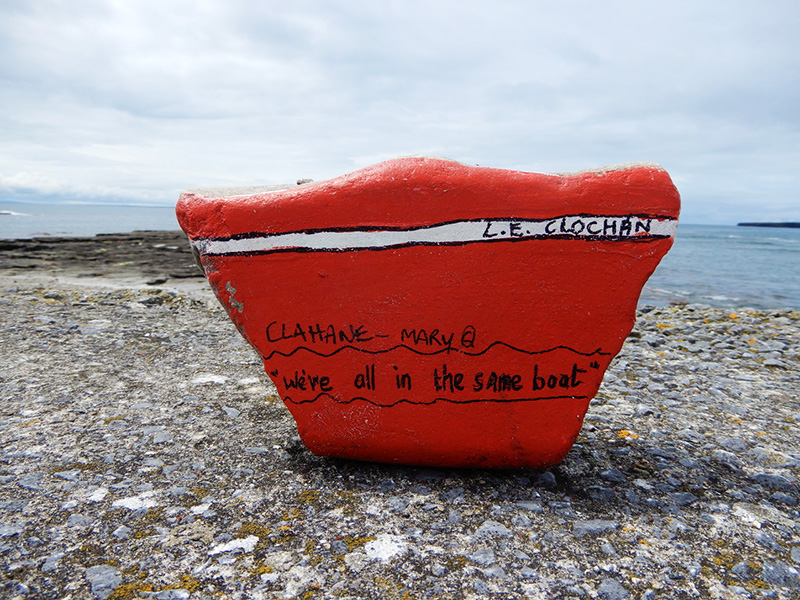 "We are all in the same boat"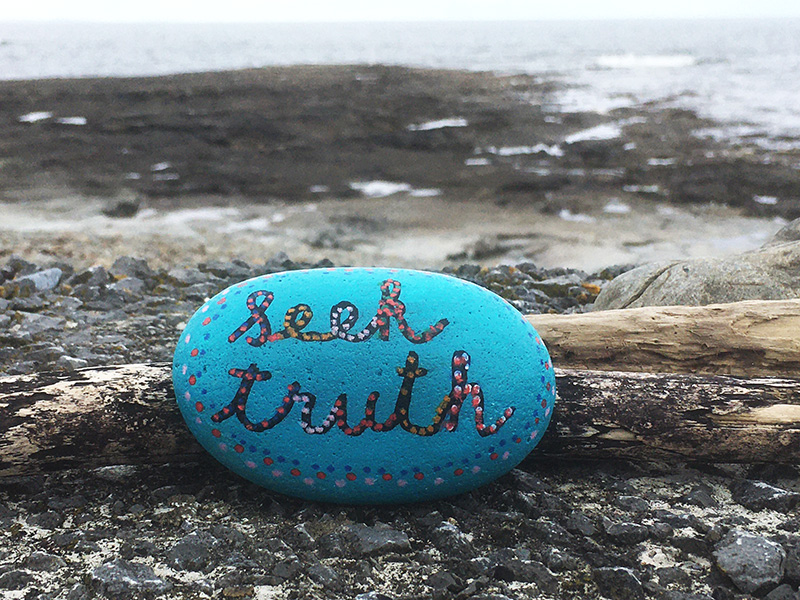 "Seek truth"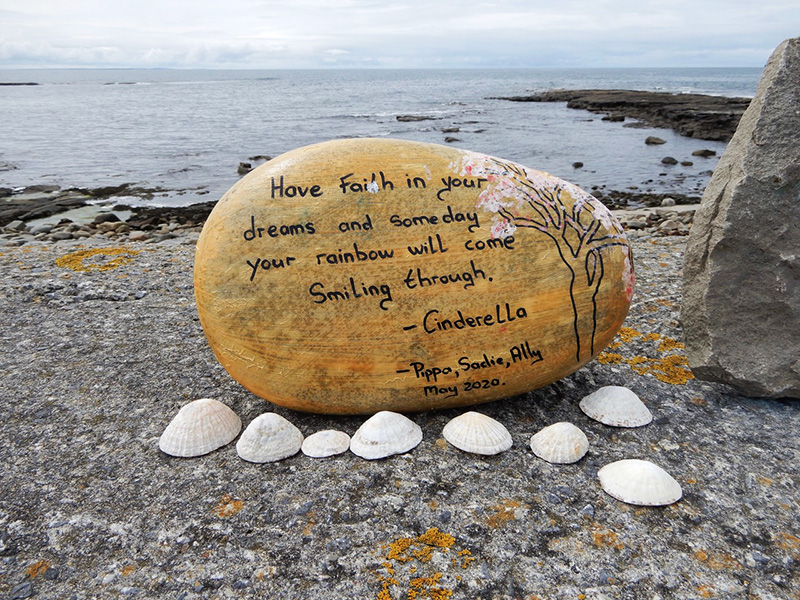 "Have faith in your dreams and someday your rainbow will come smiling through"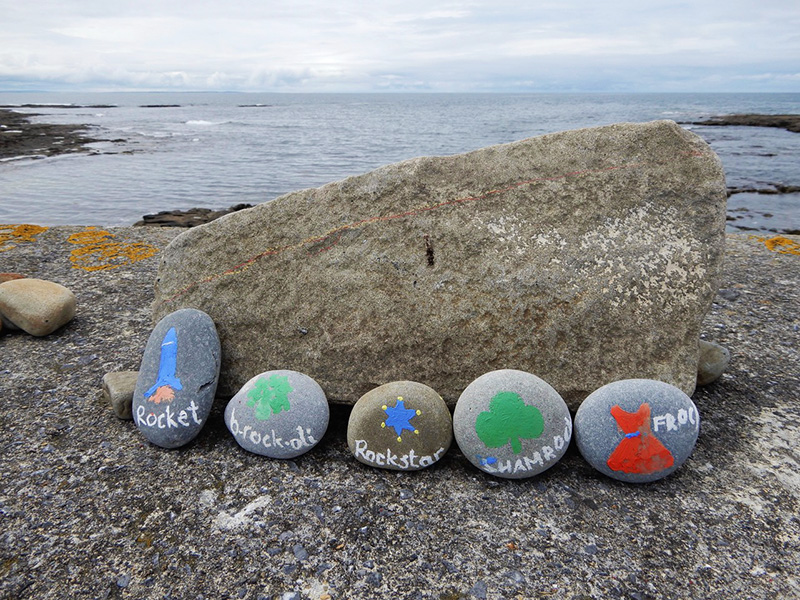 Powerful things…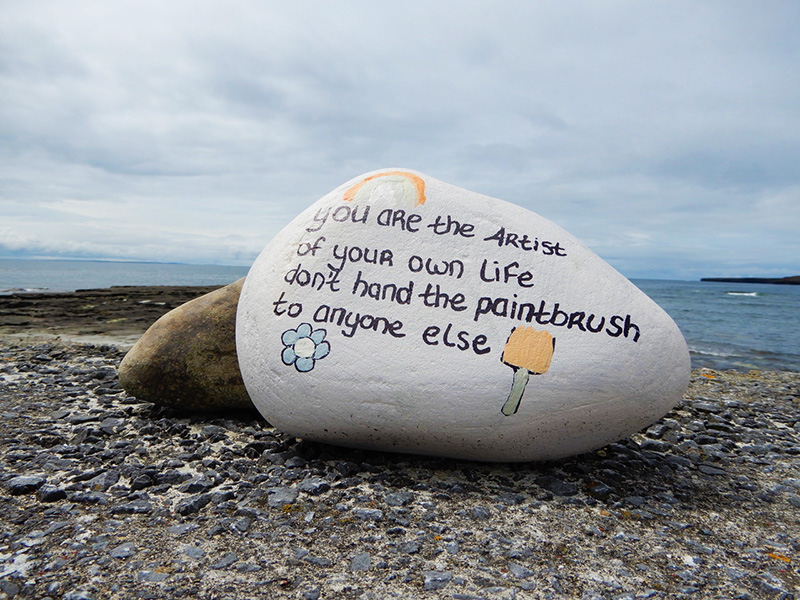 "You are the artist of your own life, don't hand the paintbrush to anyone else"
Sunbathing ladybugs
F-O-R-W-A-R-D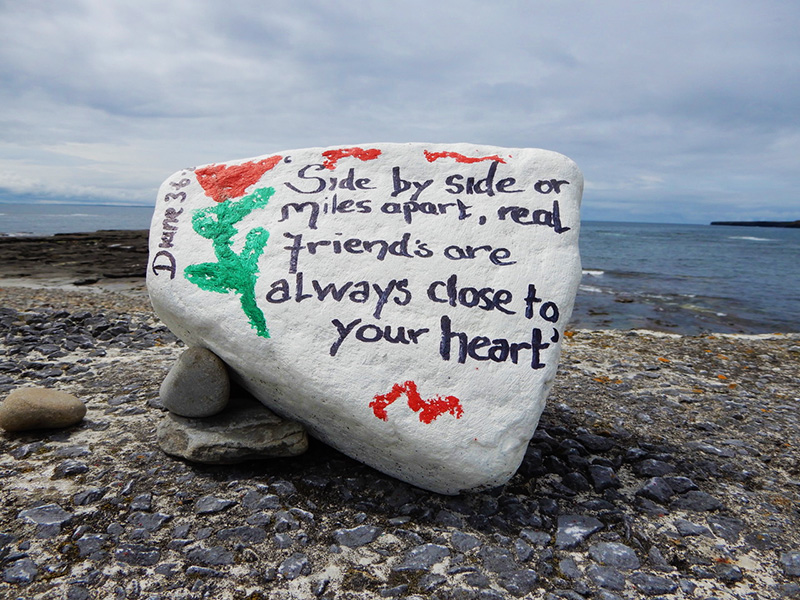 "Side by side or miles apart, real friends are always close to your heart"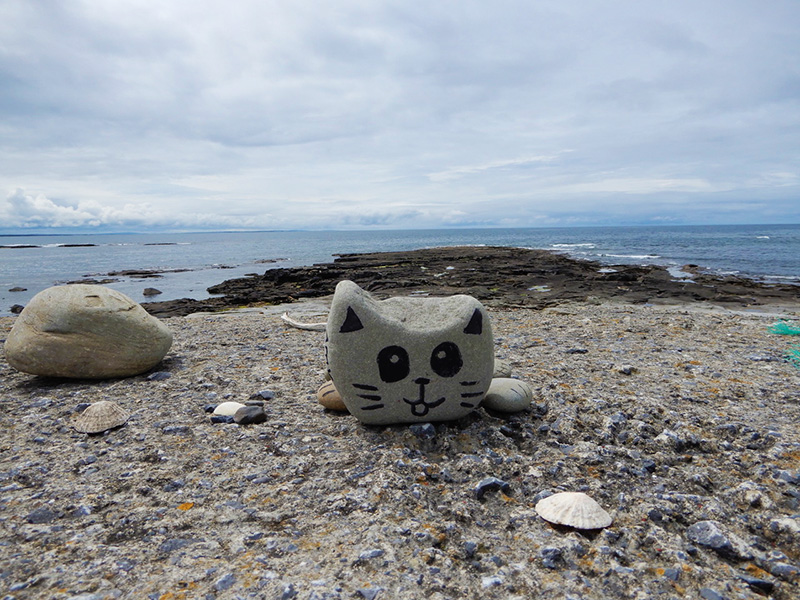 Kitty purrrs
A "Discovery Point" of Clahane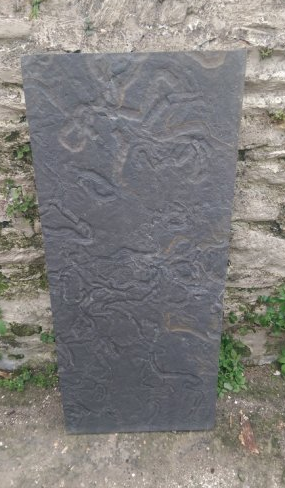 Clahane (An Clochán) is what the clever marketers call a "Discovery Point" along the Wild Atlantic Way, which stretches 2,500 miles along the coastline of Ireland. We are not far from Lahinch here. Further west, at Hag's Head is the southern edge of the spectacular Cliffs of Moher, that rise 700 feet above the ocean.
But even closer than Lahinch is Liscannor, the little fishing village where Kevin and I live. It is famous for its local stone. Liscannor Slate has been quarried for hundreds of years for its durability as paving and flooring and for the highly textured surface.
The Liscannor flagstone was formed over 320 million years and bears the fossil tracks of marine animals. The endless ripples and squiggles give the stone its distinctive and infinitely varied character.
"The Flaggy Shore" of Seamus Heaney
Apart from the quarrying industry that sprang up in the area of Liscannor, the rocky outcrops along the coastline have attracted a steady stream of nature lovers along with highly esteemed visitors, such as Seamus Heaney. Heaney, a poet, playwright, lecturer, and the recipient of the 1995 Nobel Prize in Literature, passed away in 2013.
His legacy lives on in poems like the one known as The Flaggy Shore, but the real title is:
P o s t s c r i p t
And some time make the time to drive out west
Into County Clare, along the Flaggy Shore,
In September or October, when the wind
And the light are working off each other
So that the ocean on one side is wild
With foam and glitter, and inland among stones
The surface of a slate-grey lake is lit
By the earthed lightening of flock of swans,
Their feathers roughed and ruffling, white on white
Their fully-grown headstrong-looking heads
Tucked or cresting or busy underwater.
Useless to think you'll park or capture it
More thoroughly. You are neither here nor there,
A hurry through which known and strange things pass
As big soft buffetings come at the car sideways
And catch the heart off guard and blow it open.
– Seamus Heaney