"…one that stirs the soul of the daredevil golfer."
At last it was time to put on our shoes and get out on the course. There is only one word I can use to describe this classic links layout, made-before-the-age-of-the-earth-movers. It is a gem.
Even the scorecard is a gem. It informs you on such local rules as "All sleepers on the course are defined as immovable obstructions." And no, they are not tinkers (gypsies) camping out there. Don't ask me why railroad ties are called sleepers in some countries, but they are still prevalent at Prestwick where they are used to face steep bunker walls, like the Sahara bunker on the 17th hole and the Cardinal on the famous dogleg par-5 third hole.
The golf architect from New Zealand, Scott Macpherson, on his website characterizes the third hole as being "perplexing, terrifying and exciting." Scott also provides an apt quote from none other than the great Harry Vardon, who described the Cardinal as "…one that stirs the soul of the daredevil golfer."
The hole, which is a daunting dogleg to the right, actually takes its name from the vast and deep Cardinal bunker ominously lurking about 230 yards from the tee. If you take a look at the aerial view of this cursed bunker on the Strokesaver Course Guide, it takes on the shape of the wide-brimmed hat that cardinals wear. But I hardly think the hole got its name from the scarlet galero bestowed on a senior ecclesiastical leader centuries ago. No, I rather think you required the blessing of a powerful cardinal to absolve you of your sin from having found yourself in such a sandy purgatory.
Then there is the rule declaring "Shelters, benches, posts and internal rabbit fences are defined as immovable obstructions…" where maybe they should have written "infernal rabbits" since they are rather bothersome pests on a golf course. I was even advised that the "Course Toilet Code" (C1850) is on the card as well. I'm not sure why they chose 1850. Perhaps so nobody could simply guess 1851, as that is the year Prestwick was founded.
I can honestly say I'm ultra glad I was playing with Kevin, who knew his way around the course very well, having played it for ten or twelve years in a tournament during his engineering days. The annual event was sponsored by one of his clients, Prestwick Circuits, that made printed circuit boards for the electronics industry. Kevin's Dublin-based company was one of their suppliers. Prestwick also made a perfect excuse for Kevin's travels to Scotland every year to tee it up at the Morris museum piece.
Playing on the famous course of Prestwick
In fact, during the drive from the ferry terminal up the windy road, Kevin recounted a story of one of his tournament days in the early 1990s: "I was playing off a 4-handicap at the time and I shot my career best gross 69 in the first round, that included a triple bogey on the thirteenth hole."
"Wow, Kevin, that's fabulous!" I gushed, utterly amazed.
With obvious pride, Kevin continued, "With the exception of that thirteenth hole, I was completely in the zone for the other seventeen holes."
We hear tales of professional golfers and other elite athletes being "in the zone", a phenomenal state of heightened consciousness, and this was clearly one of those experiences for Kevin.
In reliving this transcendent moment, Kevin told me, "I recall that I drove the par-4 fifteenth and eighteenth holes and had eagle putts from inside 12 feet on both, neither of which I managed to hole."
Goodness, I thought, what an unbelievable score he would have had if he holed them!
Kevin reveled in the sweet memory. "Twelve pars and five birdies for those seventeen holes was as good a game of golf I had ever played in my whole life."
He grinned and said, "The real fun started when all the cards were in and my net 65 was found to be leading the tournament by a single stroke!"
Kevin was especially chuffed when he learned he was ahead of his close friend, Stuart Bickerstaff, a local member of both Prestwick and Royal Troon. This made his "leader in the clubhouse" status twice as nice.
"Didn't you tell me this was a 36-hole event?" I asked, curious to learn how it wound up.
Kevin's smile disappeared. "Yes, and we had lunch before going out for the second round, which is when I was, er, enticed, shall we say, to have a couple of glasses of wine to celebrate my great score."
"I know you like to have a glass or two of wine (OK, maybe three) for dinner," I reminded him, "but honey, was that a smart move?"
"I have to confess, at the time, I had forgotten about the tradition of the halfway mark winner being obliged to imbibe two glasses of Kummel before playing the second round," he acknowledged. "And these weren't ordinary little dinky cordial glasses. These were more like big glass goblets!"
"Oh lord," I moaned, "did you have any idea what you were doing at that point? And what is Kummel?"
"To be completely honest," Kevin sheepishly confided, "I had never had Kummel or any liquer in the past, so by the time I had downed the two glasses of it, I was fairly well inebriated."
"Oh-oh, how did you get on?" I asked rather worriedly.
Kevin further regaled, "In the afternoon second round, the pairings were re-arranged with the leaders going out in the final group. Despite hitting my first drive out of bounds onto the railway bordering the first hole, I managed to shoot a respectable 74 gross for the round."
"Well, that's a relief, sweetie. How in the world you did that, I don't know!"
"Can you believe I missed eagle putts again at the fifteenth and eighteenth holes?" Kevin huffed.
I tried to console him."Well, honey, you were maybe a little drunk?" This didn't exactly make Kevin feel any better.
Vividly reliving the final scene, with complete frustration, Kevin concluded, "The putt that I missed on the final green was less than eight feet! Not only that, I was pipped at the post by the 19-handicap Stuart Bickerstaff, who hadn't had a drop of Kummel. The bugger carded a 68 and beat me by one stroke!"
"Oh, that's really too bad, luv," I said rather gloomily, at the conclusion of this heartbreaking defeat.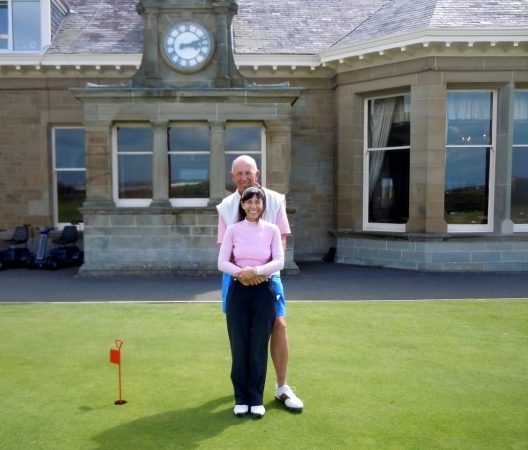 But then Kevin perked up and said, "I'm happy to say that several years later, when all of the aging regular rascals who participated in this event, decided the tournament should just be one round, I shot a 1 under par gross 70, this time off a 5-handicap."
"Wow darling. That's awesome!"
"My net 65 ended up being the best score by one stroke, ahead of none other than Stuart Bickerstaff!" Kevin beamed.
"Well, well. How sweet is that?" I was ecstatic that this time Kevin was the pipper instead of the pippee.
"Yeah. It was nice to avenge my Kummel-induced loss to Stuart, especially since he had won the event two or three more times in the intervening years."
"So how did you celebrate?" I asked, jubilant in his triumph.
With a big smile, Kevin confirmed, "This time I was more than happy to maintain the tradition to down the two large glasses of Kummel as the leader in the clubhouse, strong in the knowledge that I was not going out again in the afternoon!"
After having heard Kevin's, um, intoxicating story a little while ago, the sheer exhilaration of being out on the course made the whole landscape feel rather ethereal.
I had my usual struggles with occasional flashes of brilliance. In my euphoria, I even forgot my putter back on the the fifth hole, and did not discover it until we were nearly on the green of the sixth, which is called Elysian Fields. That required a fast jog back to get it, and left me somewhat breathless and discombobulated for a bit.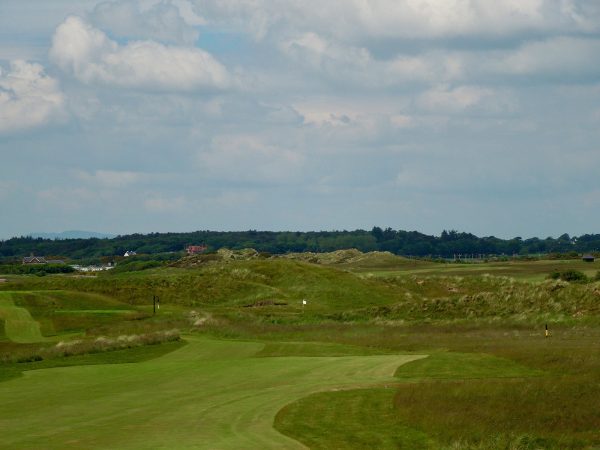 Just about every other hole Kevin said, "The greens seem much larger," or "This hole is much longer than I remember it." Like in the story Kevin told me earlier, he is clearly one of those guys whose brain is wired to remember every shot he ever hit on every course he's ever played; and he's probably right. Not that Kevin is playing the championship tees, but the course has been stretched to 6,908 yards.
I thoroughly enjoyed walking on the cockle shell pathways and I was ever more glad to have Kevin help me with my trolley as we climbed around the dunes to reach holes called Wall and Goosedubs.
By the time we got to the 15th hole, I was already fantasizing about the Tikka Masala at the Indian Links restaurant I noticed right behind the clubhouse.
At the hole named Narrows. I wrote on my scorecard: "VERY!" (with no score). Anything slightly mishit caromed into a bunker or a severe slope. I found all of the above, and thus, it became a blank on the card. Piece of cake for Kevin though.
Finally we got to the 17th known as Alps. This is the original 2nd hole from 1851 and is considered the oldest existing hole in championship golf. Between the blind shots over imposing sand dunes and the Sahara bunker, you do just about want to hoist your own victory flag when you have negotiated the Alps.
Thankfully, the 18th hole is rather gentle. Just aim for the clock on the clubhouse and fire away. Considered a shortish hole from the medal tees, Kevin could probably birdie it with his eyes closed. And remember, he nearly eagled it twice in one day.
Young Tom Morris
My exhilarating maiden voyage around this historic course was coming to a close, but I was happy to get back inside the clubhouse and have one last look at the Challenge Belt and Claret Jug replicas. Little did I know at the time that I would see the original belt that Young Tom won when I had the good fortune to be inside the Royal & Ancient Clubhouse in St Andrews just a few days later. Even more shocking was the fact that I was allowed to photograph it, given the R&A has always been the private preserve of an extremely exclusive membership. Wonders never cease.
I left this storied place in complete awe, especially of Young Tom Morris.
When the golf scribes of our time write about the child prodigies like Tiger and Rory, or Lydia and Michelle, they would be well-advised to remember Young Tom, who learned to play golf at Prestwick and went on to win golf's oldest major four consecutive times.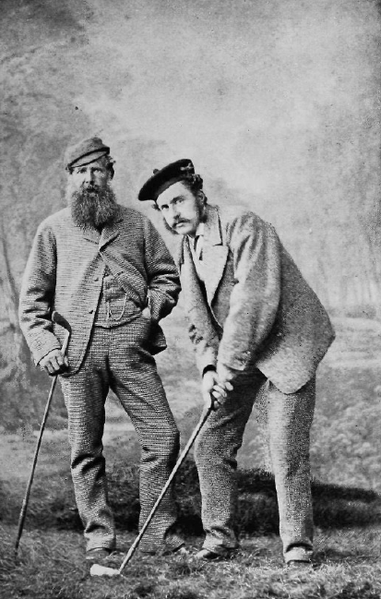 And may I further point out that Young Tom played in his first Open at age 14. Young Tom's first Open Championship win, in 1868 at age 17, made him the youngest major champion in golf history, a record which still stands.
And, when we read about golfers winning back-to-back majors like Jack Nicklaus or Bubba Watson at Augusta, or winning a particular major a record six times, like Vardon (The Open) or Nicklaus (The Masters), we need to put Young Tom up on his own pedestal as the only champion to win four straight Opens. That's four in a row!
No one else has ever done it since. The only accomplishment that comes close, or perhaps matches this amazing feat, is Bobby Jones winning the Grand Slam of his era in 1930.
What a tragedy that Young Tom's life was cut short at the tender age of 24, just three years after his fourth consecutive Open Championship win at Prestwick. Who knows what he could have gone on to accomplish had he not died on Christmas Day in 1875.
Less than four months earlier, Young Tom's wife had died in childbirth. The baby, a son, was stillborn. Tommy, depressed and drinking more than before, had been persuaded to play in a week-long golf match in brutally cold weather. Emerging triumphant, after battling eighteen-year-old Arthur Molesworth through snow and even hail, Tommy was hardly festive in the days that followed.
Although Young Tom did not exhibit any of the common symptoms to warn of his sickness; the grief, freezing temperatures, and excessive drinking couldn't have helped. His father found him lifeless, in his bed, on the morning of December 25th. In actual fact, he succumbed to a pulmonary embolism; but many Scots would say Young Tom died of a broken heart.
Thankfully, our precious Prestwick lives on, having survived two World Wars. Back down the road we had just traveled, the government acquired the property at Turnberry during the First World War and used it as an airbase, turning the linksland into concrete runways. When World War II erupted, The Turnberry Hotel was (again) commissioned as a hospital and the golf courses were used to train the Royal Air Force (RAF).
So now we know where those naval artillery shell cases came from to make the ashtrays in the Smoke Room—it is because the Royal Flying Corps (RFC) trained pilots in aerial gunnery and combat over the Ayrshire coast. Then in 1918 the RFC merged with the Royal Naval Air Service.
Prestwick has seen many battles fought and won, both in the air during wartime and on linksland during tournament time. Alas, we are blessed to be able to chase a little white ball around the humps and hollows on the fairways where Open champions walked; then putted their gutty balls over the undulating greens and carried home their trophies, all under the watchful eyes of the Ailsa Craig.