The oldest recorded golf club in the world
Most people would be delighted to be playing at Muirfield. I was far above delighted, I was ecstatic. Playing golf at the home course of The Honourable Company of Edinburgh Golfers is a rare privilege indeed; and many a grown man has been known to grovel to get onto this course. Founded in 1744, it is the oldest recorded golf club in the world, and right now sits firmly on its perch at #12 on the GOLF Magazine Top 100 list. Most probably it has been in the Top 15 ever since the list was drawn up.
Like many courses in the early years, it started with far fewer than eighteen holes. This didn't become the norm until ten years after The Society of St Andrews Golfers was formed in 1754. In fact, the Leith Golfers, who later became The Honourable Company of Edinburgh Golfers (HCEG), played their golf over just five holes in Leith. The Club moved to Musselburgh in 1836, where they played within the racecourse, which has continued to serve as a horse racing venue until this day. Some thirty years later, when the Musselburgh course was shared by four clubs, overcrowding led to the Club moving again.
In 1891, the course at Muirfield that opened for play was designed by Old Tom Morris as sixteen holes. Two more holes were added a few months later. In 1928, Harry Colt and Tom Simpson made alterations to the layout. It was the first to be designed with two concentric rings of nine. The outward nine run clockwise and the inward nine run counterclockwise. Muirfield has been host to 15 Opens, starting in 1892; and the Open Championship is returning in 2013. Not that the pedigree needs any enhancing, Muirfield has also staged many other premier amateur championships, along with the Ryder Cup, Walker and Curtis Cups.
The memorable Greywalls and its exquisite gardens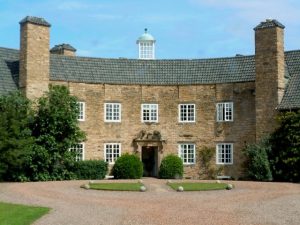 Our sure-to-be memorable day began with meeting Kevin's good friend and fellow Dubliner, Peter Webster, at Greywalls, a very posh hotel situated next to Muirfield, overlooking the greens of the 9th and 18th holes.
We found Peter reading the paper and enjoying a cup of tea in the elegant library. He was impeccably dressed in the required jacket and tie. While we waited for tea ourselves, I browsed through a book about the celebrated Edwardian architect, Sir Edwin Lutyens (1869-1944), who designed the Country House in 1901 for the Hon. Alfred Lyttelton. Alfred was a keen golfer who wanted to be "within a mashie niblick of the eighteenth green of Muirfield." (Today that would be the equivalent of an 8- or 9-iron.)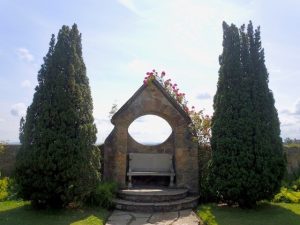 Peter was aware of a special architectural feature in the garden. He insisted, "You must not miss the clair-voyee," and I was out of my winged-back chair faster than you could say White Rabbit!
Like Alice in Wonderland, I found myself in the most magical place teeming with all manner of cool and fiery colored flowers and secret shady places full of gorgeous ornamental gates and elaborate stone statues. Although I did not come across a Cheshire Cat or make it as far as the croquet lawn (surely it was inhabited by flamingos?), I did discover the clair-voyee.
What a clever device. The oval-shaped opening in the garden wall was like a portal to another world. A little research revealed that the clair-voyee was common in French gardens of the seventeenth century and was usually placed at the end of a walk to extend the view outward and "call in" the countryside.
The garden embodied endless charm. No wonder. It was designed by Gertrude Jekyll (1843-1932), who collaborated with Lutyens on scores of gardens, and as England's most venerated designer, she was revered as a national heroine. And, it was this prolific designer who introduced Lutyens to most of his early clients. Considered bilingual, speaking both art and horticulture, her philosophy was distilled from the Arts and Crafts Movement, which expounded on the importance of creating with heart, hand and eye.
Influenced by her studies in London, travels abroad, and her association with William Morris, Jekyll's own personal unity of the aesthetic arts led her to practice many other crafts such as embroidery, metalwork, woodwork, painting and later photography, before taking up garden design. Without knowing at the time who created this multi-layered living tapestry, I felt a deep connection to this pleasing place and found it hard to tear myself away. What a superb appetizer to our main course!
The gate that stops you – to marvel at it!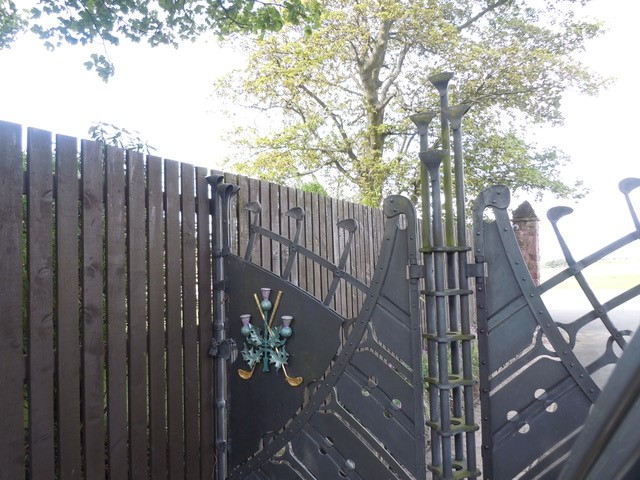 Our appointed time arrived to meet the Master of our Muirfield experience, David Sanderson. A recipe for a better host you could not conjure up. He was generous portions of gracious, bright, charming and funny, topped off with a huge dollop of excellent golfer.
Starting when you arrive at the massive iron gate, cleverly designed with golf club and ball elements, plus elegant raised lettering, you know you are someplace special. In fact, I was so blown away by this monumental work of art that I later wrote to the owner of the company. This detail is all part of his reply:
"The gates were commissioned in 1999 by the then-Captain of Muirfield, Mr. J. B. Neil, and the design was developed by Phil Johnson & Jois Hunter.

The whole main gate is part of a giant golf ball with 18 holes scattered
about the lower section.

Inside the trophy cabinet of the Clubhouse there are a number of silver golf  clubs displayed, each with a silver ball attached (one for every club captain). These silver balls are represented by negative/positive discs holding the  lower solid panels in place. There is more…can you find any Birdies, or Eagles, or Albatrosses?

The thistle and clubs are the Coat of Arms of The Company. As you say, the  components were forged separately and then assembled onto the back plate, as was the lettering on the pedestrian gate.

The gates and panels and posts were riveted together after all the components were forged and shaped. The assemblies were first galvanised, then painted and finally the coat of arms was overpainted in the appropriate colours and the lettering gold leafed.

The main gates, which are automated, were installed in July 2000.

There is just over a ton and a half of steel in the whole work. They took us seven hundred and twenty eight and a half hours to make."
Now you know why I was blown away.
The protocols of Muirfield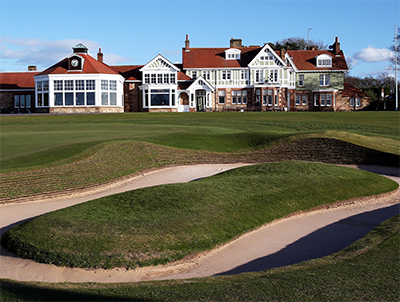 Once inside the gates, it was just a short walk to the clubhouse entrance, where the men continued on to their locker room and I was escorted back outside to a little walkway leading to the ladies locker room.
Modest and tidy, with a single cushioned bench running down the length of it, the locker room did actually have small lockers under the bench, where I stowed a few things. My escort then brought me back to the main clubhouse so I could join the men for a drink before lunch.
One understands why all the protocols of Muirfield are what they are when you know the essential ingredients of how the club was formed. I read about it in previous research, but here it is, extracted from the official Muirfield And The Honourable Company by George Pottinger, a copy of which my genial host bestowed on me as a gift:
"Golf at Leith Links—and at St Andrews and Perth—was becoming more popular every year, but there was as yet no sign of any corporate body or collection of individuals forming a club or society to promote their common interest in the game. The establishment of the Company of Gentlemen  Golfers in the 1740s seems to have come from the golfers' habit of taking refreshment at a particular tavern after their exercise.

The Gentlemen Golfers were accustomed to meet for this laudable purpose at Luckie Clephan's tavern at Leith. Clephan was an innkeeper and clubmaker who died in 1742 and it was the house of his widow that became the Company's first headquarters."
So there you are. Now bring on that drink while I sit back and absorb the atmosphere of the Smoking Room wherein many of the crown jewels hang on the walls.
A magnificent portrait of William St. Clair of Roslin (1700-1778) commanded my attention as he towered over me in his red coat, holding a long wooden club, probably addressing a feathery golf ball. The small attached plaque explained that St. Clair was "the last of a line said to have come to Britain with William the Conqueror." He was the Club Captain 1761, 1766, 1770 and 1771. I was informed by my escort that the original is actually in a vault and this one is a reproduction. It is technically "after the portrait by Sir George Chalmers".
The other painting that engaged my attention was called "A Club Dinner" by Angus Hampet. It was commissioned by a member, G.A. McElveen III, and presented to the Club in 2008. Sadly he did not live to see its completion. It was a festive scene of dozens of members, seated for dinner in their red jackets—quite atmospheric and almost Degas-esque.
We were soon called to lunch. It was quite a lavish affair. We sat in a large airy room with a view of the course. It was a lively ambience with all the gentlemen in coat and tie. I noticed a few people had plates full of cold salad foods, and realized I was supposed to serve myself, and so I did, thinking that was the lunch.
Not the case at all! There was an entire hot meal being served at the other end of the elegant dining hall, with several carved meats and miles of vegetables. Oh. Now I am sorry I had an extra bite or two of beets. While we were consuming lavish amounts of delicious food, the entire salad table was replaced with desserts. How would one attempt to resist?
The 'Scotch' Foursome
After lunch, I changed into my golf shoes in the ladies' locker room and met the lads on the first
tee, where Peter announced, "You and Stallion are a team."
Now for the other key component of the Muirfield Recipe, also extracted from the Muirfield history book:
"The Honourable Company is the home of the Foursome—sometimes called the 'Scotch' Foursome—and regards it as the true game, the epitome of all that is best in golf.

A prominent Notice hangs beside the entrance to the clubhouse at Muirfield, saying: 'Fourball games are forbidden at weekends and on public holidays.' Any member (or visitor) who attempted to break this rule would get short shrift. And, if it be reported that a player plays twice as many shots in a  fourball game as in a Foursome, the Muirfield man would reply, 'Play  36 holes in 4 1/2 hours (as we do) and you will get the same number of shots, twice the exercise, far more fun, and you won't have to wait between shots. Furthermore you will learn to play golf better.'"
I was intoxicated by all I was experiencing and didn't play my best golf or anything close to it. I did, however, have the most fun and never waited between shots—that is, until we got to the fourteenth hole. This long par-4 (par-5 for ladies) follows a par-3 with an elevated green. The members' tees were around the dune and my forward tee was below, so I didn't follow Peter up to his tee box, nor could I follow where he hit his drive. Kevin and David were already walking through the rough; David along the left and Kevin along the right side of the fairway.
After I heard Peter's strike and saw that he was on his way down from the tee box, I got set to hit my drive. It landed in the light rough on the right side of the fairway. Peter evidently was in deeper rough on the left. David went over to help him search for his ball.
We saw that the group behind us had already reached the fourteenth tee. We waved them through, staying clear of the fairway. Mindful that we didn't want to hold them up, but over 200 yards away and not in earshot, Kevin and I had a little chat.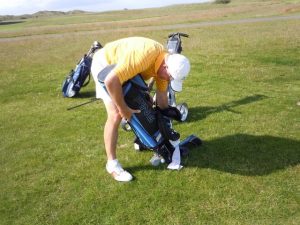 And then zzzzuuummmmp! Into my golf bag went a ball. As soon as Kevin realized what had happened, he keeled over in laughter. Peter and David were now calling out and waving vigorously, thinking Kevin had been hit by a golf ball.
Kevin and I were laughing ourselves silly. He picked up my bag, turned it upside down, and shook it to coerce the ball to come out. About this time, the hapless golfer, clad in a Pebble Beach shirt and wearing an angry frown, arrived at this comical scene. Only he didn't find it funny in the least. But why not? He just had a hole-in-one!
We backed away from where his ball lay, and kept quiet as he took an angry swipe at it, shooting us dirty looks and muttering to his caddie. One hates to be the reason for another's card-wrecking hole. Since we now had to continue waiting—Kevin would be playing the next shot with his fairway driver—in between the giggles, we pitied this joyless fellow who could not embrace the hilarity of the mishap, as he was so driven by his score.
Out of rhythm now with our own game, and not wanting to crowd this sorrowful soul, we walked a half step slower to keep out of the slipstream of the sourpuss.
The Original 13 Rules of Golf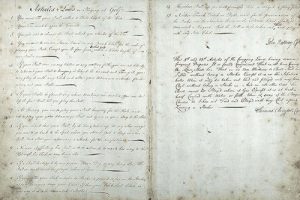 But we regained our collective good spirit and carried on to the eighteenth hole, allowing our bonhomie to carry us back in to the clubhouse. David then offered us a tour upstairs so we could see the Original 13 Rules of Golf.
Like the Roslin painting, it was a facsimile, but nonetheless, it was a thrill to see the Rules written in the hand of John Rattray, first Captain of the Club. It was impossible to take it all in, but one other tasty morsel of memorabilia stuck in my mind: the scorecard of Mr. B.A.D.T.M. Shade, otherwise known as Mr. Bloody Always Down The Middle Shade, who shot a 70 on this par 71 course.
Although we didn't follow the complete protocol for the Muirfield members—especially in the early days when they met at the tavern (these were "no half-pint men", mind you), perhaps aptly described by Tobias Smollet in his 1771 epistolary novel The Expeditions of Humphry Clinker. He recalled the golfers he saw on the Leith Links: "They never went to bed without the best part of a gallon of claret in his belly."
However we were informed of the members' ritual of the day's golf-lunch-golf round involving a Sticky, which consisted of a liqueur—a particular favorite at Muirfield being Kummel.
Our convivial host described this most agreeable liquid course this way:
"There is a tradition of self-pouring stickys at our club to create a meniscus at the top of the glass. Often as not, this is broken during the journey to one's seat with unsteady hands resulting in sticky hands. They are had with coffee in the smoke room at the end of lunch before we go out for our afternoon round. Sticky hands can be helpful for holding on to golf clubs after lunch…"
And certainly the Sticky at the end was especially helpful for holding on to the great camaraderie of the round itself!